VozData is a collaborative tool to convert public documents trapped in closed formats into a structured database. Information proccessed is suitable for general audience understanding and for journalists to analyse and report.  The application was inspired by The Guardian "MP´s Expenses" and  Propublica´s "Free the files".

VozData´s first initiative was Senate Expenses (Argentina), divided in 3 different periods. Over the course of a couple of months, LA NACION digitized more than 10000 PDF.  Team work was fulfilled by 1000 volunteers. Data obtained was published online in real time in the form of rankings of recipients and type of expense. The platform also includes ranking of users that review and classify documents.
At the end of each data project, LA NACION´s data team reviewed representative samples and published the dataset in open data formats for download (CSV, XLS, etc). The Code driving Vozdata was open sourced by OpenNews Fellows and named Crowdata.
Aggregated LA NACION's reporting on Senate Expenses, including findings in Vozdata projects.
Vozdata VIDEO Demo in english
CIVIC OPEN COLLABORATION: Partnering with NGO's and Universities, and general audience!
Students of Universidad Torcuato di Tella – Masters in Journalism during a civic marathon al LA NACION
During May 2014 we started a campaign to try to finish "the stack of PDFs" of the first set of Senate Expenses during #SemanadeMayo that is a patriotic week and culminates May 25th. This historical day of 1810 is well known with a phrase "El Pueblo Quiere Saber" "People wants to know". So we decided to organize what we named "Civic Marathons" for opening data using Vozdata.
We made  banners for social media and got shared via LA NACION & LNdata twitter and Facebook accounts. 
He hosted a civic marathon on May, 23 rd at LA NACION inviting more NGOs & Universities. The same day, two civic marathons were held by Universities in Córdoba & Concepción del Uruguay cities. By 11 AM, May 25 the national holiday, we finish to review the 6557 docs and shouted from different places ¡Viva la Patria! A salute to our Homeland.
Working with universities. Training the future change agents on open data, transparency and accountability.
Journalism students at Universidad Austral, Universidad Torcuato di Tella and Universidad de Concepción del Uruguay also collaborated on the initiative by organizing their own VozData hackathons.
Photo: Students from Universidad Austral – Journalism Club (their findings in our blog)
Photo: Students of Universidad Concepción del Uruguay, Entre Ríos, Argentina
(their findings in our blog)
Colegio Universitario de Periodismo (Córdoba) organized a hackathon day #Liberathon, in which they invited voluntary participation to check Senate Expenses with VozData.
Students and teachers from Colegio Universitario de Periodismo along with journalists from several Cordoba media gathered to check public documents. (Their findings in our blog)
Some reporting was published in media at Córdoba province after the liberathon conclusions.
Vozdata 2015: Classifying Audios related to Prosecutor Nisman death's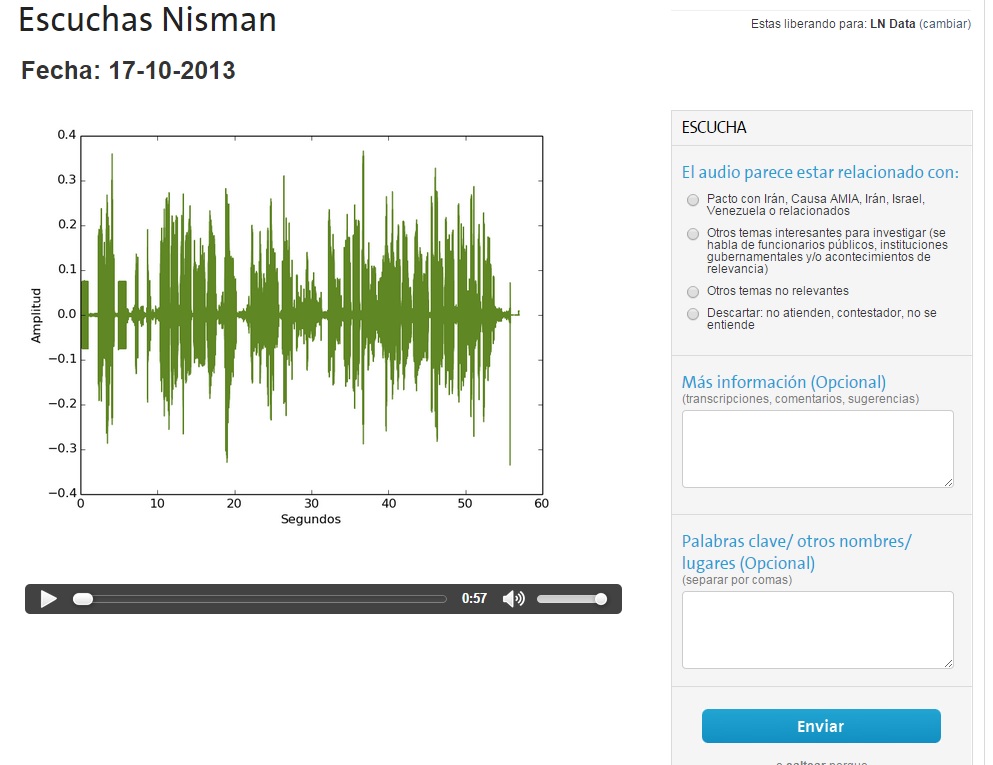 We are using the platform for a classified newsroom investigation on 20.000 audios related to phones interceptions regarding the relationship between the signature of the IRAN – Argentina Memorandum and the suspicious death of Prosecutor Nisman the day immeadetely before presenting the case in Congress,  in which he was accusing the President Cristina Kirchner and Hector Timerman and other public officials, of helping cover the suspected organizers of the Amia attack that left 85 death in 1994 . More information in english
We are trying to classify audios between a) related to Nisman's Investigations, b) other relevant conversations , c) not relevant and d) discard (answering machine, etc) and a transcription and a keywords/tags form to include the more relevant text .
We are getting help of a closed network of collaborators because many audios relates to personal aspects in the  phone conversations. So we avoided going public for crowdsourcing with general audience.
Audios found are being included to support his accusation, an almost 300 pages PDF.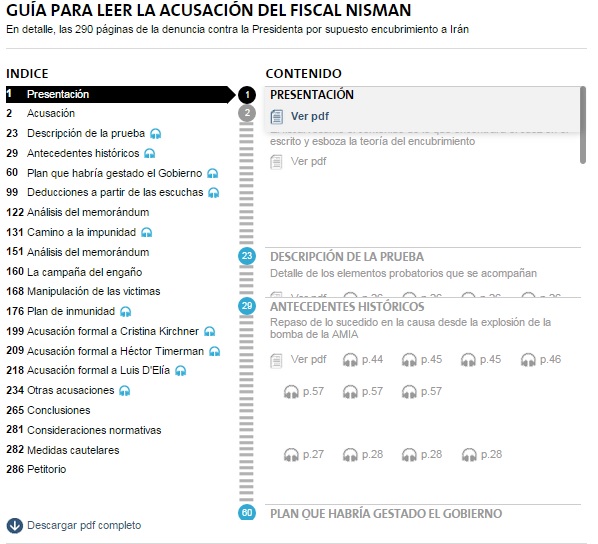 Reporting on Nisman Death and Investigation.
We continue to develop Vozdata and with Nisman Project we are testing a feature to enhace participation and education: TEAMS!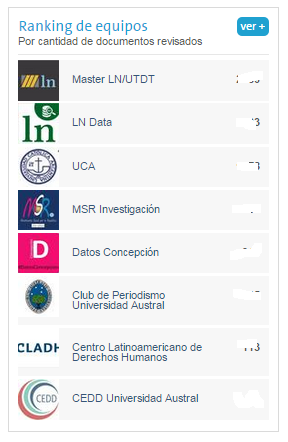 Now NGOs, Universities, Corporations, Activists will able to propose a team where their affiliate participants can choose to support and liberate data for them.
We are convinced that this feature will allow us to help transparency NGOs that collaborate to open data with volunteers to make their efforts accountable and, regarding the educational goal of Vozdata for universities, it will facilitate national interuniversities' tournaments/challenges around opening public data and reporting on it. Prizes could imply free travel expenses to our next datafest in Buenos Aires, grants for Master Degree, etc.
Teams are distributed in rankings in relation to the amount of documents opened as users.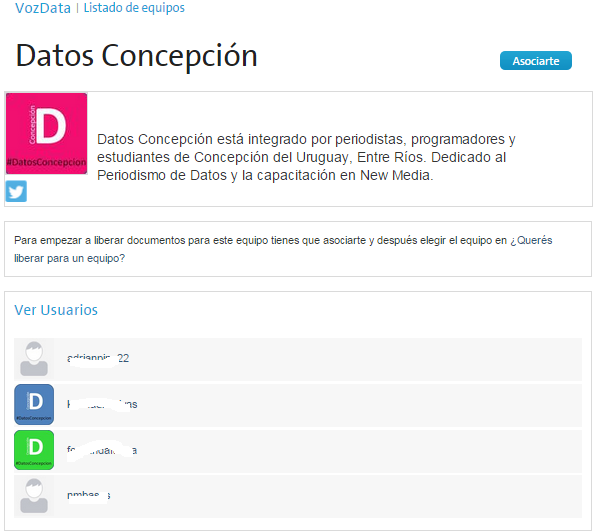 This is a special feature that distinguishes Vozdata from other platforms to structured data and aims to enhace the educational goal. Students liberating data, understand the process from open to database, and when they graduate and start working on government dependencies, NGOs, media, etc they will evangelize on how to publish structured information (Google Spreadsheets, .CSV, .XLS, Junar, CKAN, Json, Etc)
Maybe this is not an issue in countries like USA or UK where there is a national governmental strategy around opending public data, but for many developing countries it can be a game changer for democracy transparency.
Going International: Vozdata open source code (CROWDATA) was implemented in New Zealand.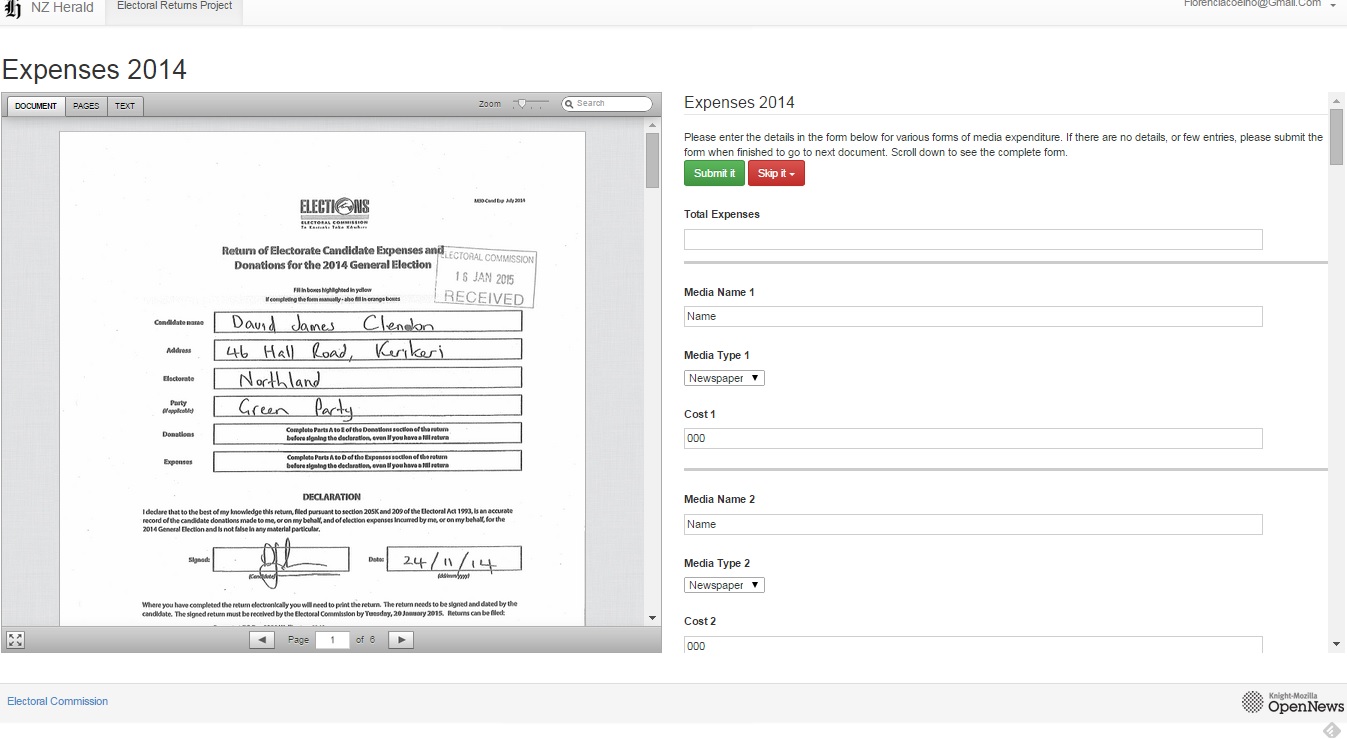 The Herald from New Zealand uploaded nearly 900 documents with information about returns for electoral candidates, including all current members of Parliament.  The site, Money in Politics, allows citizens to engage with and analyze the data.
We will keep Vozdata with another project this year, and we hope more implementations of Crowdata/Vozdata can help other media and other countries to activating a community of citizens that want to help produce transparency and keep their governments accountable . Now citizens can help us investigate, so now once again we are breaking the limit of resources, it's a matter of willing to do open data journalism, no excuses.
Some testimonies from different collaborators to Senate Expenses projects.
NEW! Testimonies traslation transcript in english here.
María Baron, Executive Director at Directorio Legislativo, NGO monitoring Congress transparency in Argentina
Bernardo Basombrío, top engaged citizen volunteer.
Adrián Pino, Journalism Professor at Entre Ríos province, in Argentina
Ariadna Diaz, a graduate from Universidad Torcuato di Tella Masters in Journalism.